Whoopi Goldberg's Films

FILM
Citizen

The Color Purple

Doctor Ducks Super Secret 1985


Jumpin Jack Flash 1986

Fatal Beauty 1987

Burglar 1987

The Telephone 1988

Clara's Heart 1988

Kiss Shot (TV Movie) 1989

Homer and Eddie 1989

Comicitis 1989

Beverly Hills Brats 1989

Ghost 1990

The Long Walk Home 1990

Soapdish 1990

Wisecracks 1991

House Party 2 1991

The Player 1992

Sister Act 1992

Sarafina 1992

The Magical World Of Chuck Jones 1992

Loaded Weapon 1993

Made in America 1993

Sister Act 2 (Back in the Habit) 1993

The Lion King 1994

Star Trek Generations 1994

The Pagemaster 1994

Rolling Stones: Voodoo Lounge 1994

The Little Rascals 1994

Naked in New York 1994

Liberation 1994

Corrina Corrina 1994

Boys on the Side 1995

Moonlight and Valentino 1995

Theodore Rex 1995

The Sunshine Boys 1995

EDDIE 1996

Bordello of Blood 1996

Bogus 1996

The Associate 1996

Ghosts of Missisippi 1996

Destination Anywhere 1997

In and Out 1997

Burn Hollywood Burn 1997

A Christmas Carol 1997

How Stella Got Her Groove Back 1998

Rudolf The Red Nosed Reindeer 1998

The Rugrat's Movie 1998

Alegra 1998

Get Bruce 1999

Deep End Of The Ocean 1999

Magical land of the Leprechauns 1999

Girl Interrupted 1999

Our Friend Martin 1999

The Adventures of Rocky and Bullwinkle 2000

More Dogs Than Bones 2000

Monkeybone 2001

Kingdom Come 2001

Rat Race 2001



TV
Comic Relief 1986
A salute to Billy Wilder 1986
Funny you don't look 200 1986
Christmas Special 1988
Kiss Shot 1989
Bagdad Cafe 1989
Circus of the Stars #15 1990
Captain Planet and the Planeteers 1990
Tales from the Whoop 1990
Oscar's Greatest Moments 1992
Comic Relief V 1992
The Whoopi Goldberg Show 1992
The Celluoid Closet 1995
A salute to Steven Spielberg 1995
Happily Ever After 1995
In the Gloaming 1997
Hollywood Squares 1998
A Knight In Camelot 1998
AFI'S 100 Years ..... 100 Movies 1998
Alice in Wonderland 1999
Jackies Back 1999
Foxbusters 1999
AFI'S 100 Years....100 Stars 1999
71st Annual Academy Awards 1999
Strong Medicine 2000
What Makes a Family 2000
Here's to you Charlie Brown 2000
AFI'S 100 Years.... 100 Laughs 2000
America's Funniest Movies 2000
Call me Claus 2001















THE COLOUR PURPLE REVIEW
This is an interesting article on Whoopi's Debut film The Color Purple. It tells the story of the film.

Click on each Thumbnail to read the story.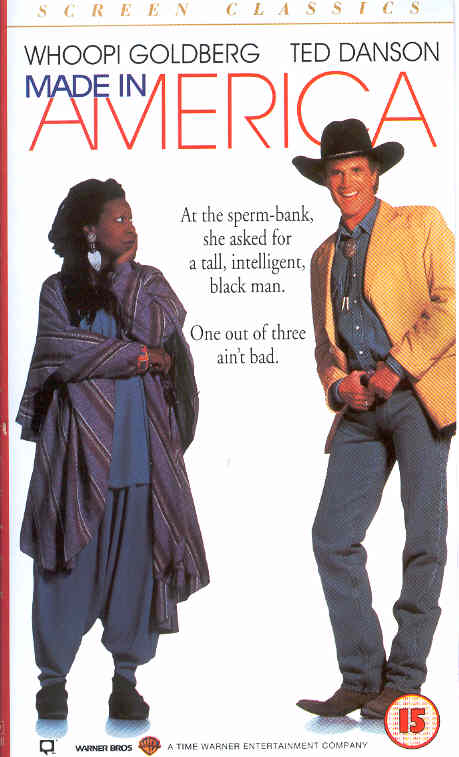 Favorite Movie
Made in America

It is everything you'd expext and more from Whoopi. Made in America is a romantic Comedy Starring Whoopi, Ted Danson, Will Smith and Nia Long who's recent film is Big Momma's House( She Plays Cherrie)

Made in America tackles the story of how Teenager Zora( Nia Long) Finds out she has been artificially Inseminated by an unknown donor in the form of car salesman Hal Jackson(Ted Danson)Zora and her Mate Tea-Cake(Will Smith) Pay him a visit. But When Zora runs home in tears after Hal turns her away to tell her mother Sarah(Whoopi Goldberg)Sarah goes mad When Zora Tells her He's a car salesman and very definately WHITE. Sarah and Hal hate each others guts at the start but hate soon turns to love For Sarah and Hal But Zora is unhappy about the two dating. Will Sarah,Hal and Zora ever be a family and Is Hal really Zora's Dad??

Buy the Video to find out
This is a good Film that tackles a subject not many Films have.